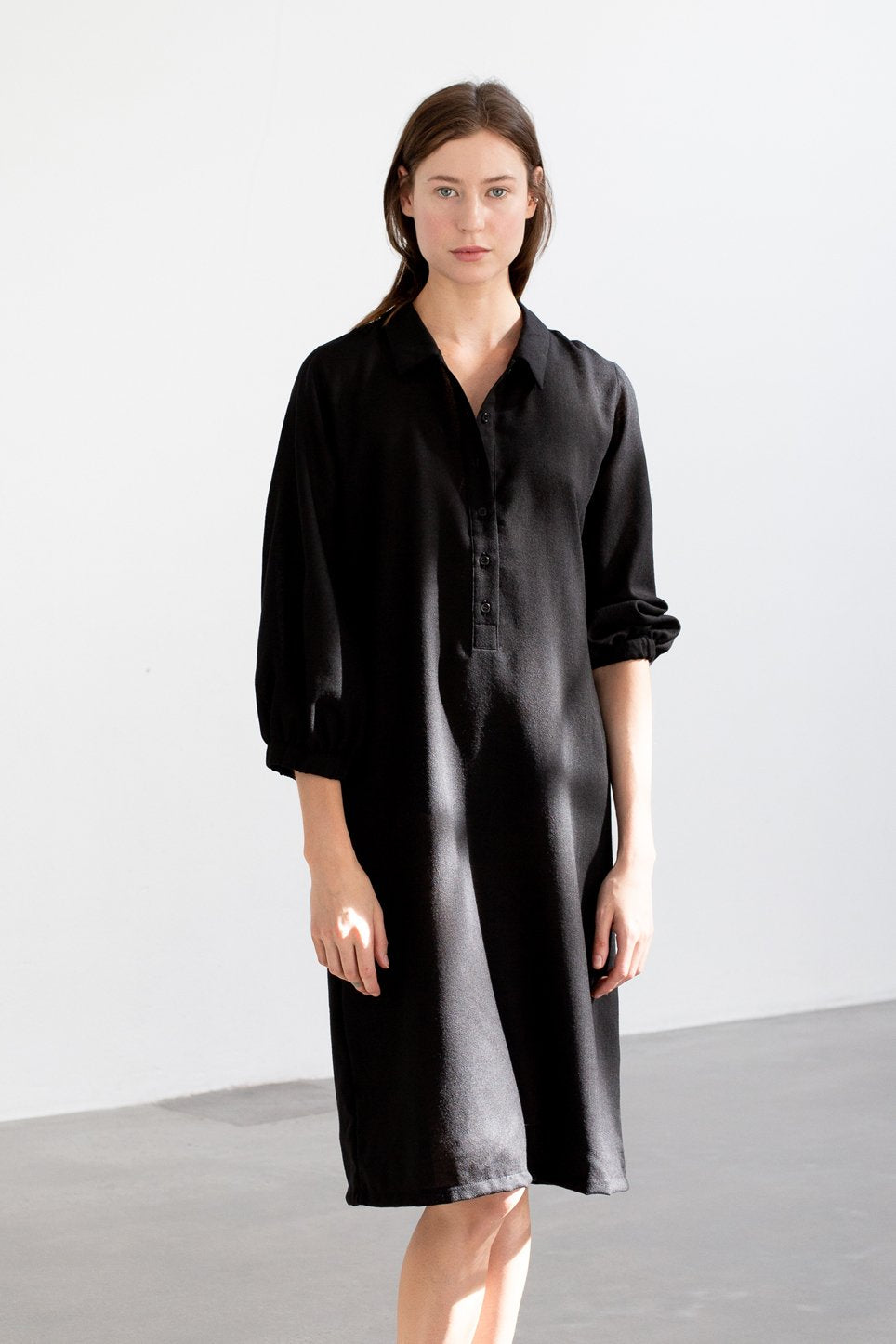 Description
Product Care
Shipping
Size guide
TEA is a relaxed fit dress that has been effortlessly tailored from a premium soft wool shirting.
• Knee length dress with collar and half length placket
• 3/4 length balloon sleeves
• Corozo buttons
• 100% wool
• Made in Portugal
• We are using GOTS certified fabrics
• Alexandra is wearing a size small and she is 181cm/5,9ft. True to size.

It's that time of year again, where we find ourselves in a sartorial hibernation. During the colder months, the difference between interior and exterior, becomes even more pronounced. At TWB, we have always valued your private time at home. But, what if you need to leave the comforts of "chez-toi" and the great outdoors beckons?
Machine wash warm at 40°C (104°F) with similar colors. Please consider hang dry instead of tumbling to reduce energy and make the garment last longer. Warm iron.
For international orders Fedex or Postnord are our standard services.

All of Europe 2–3 business days
US and Canada 2–4 business days
Rest of the World 2–5 business days

For orders within Sweden we ship with Postnord 2-3 business days

For countries outside of the EU we ship DDU (delivery duties unpaid).
Please check our size guide here
For more recommendations please contact us.
FAQ
Deliveries
We dispatch all orders within 24 hours of being placed. During our sale periods it can get very busy in our factory, orders may take a little longer to be dispatched so please add five working days just in case.
If there's something you want to know about your order, please get in touch with us at customerservice@thewhitebriefs.com
Will there be any additional costs to my order?
For countries outside the EU, orders are shipped on a DDU (Delivered Duty Unpaid) basis, meaning your order may be subject to additional charges. If applicable, you will be responsible for paying these costs before your item can be delivered.

Return and exchanges
For more details on how to return or exchange an order, please see our info page.
What size should l order?
Please refer to the size guide on the product page. If you still need assistance, contact us so we can help you save time on returns and lower our environmental impact. Our size guide is on every product page.


About us
Origin
The White Briefs is a Swedish underwear brand founded in 2009 by husband and wife team Peter and Henriette Simonsson. Steadfastly committed to quality product and sustainable production, The White Briefs emphasizes that underwear is an understated, and personal pleasure.
Philosophy
It all began with a profound love for utility garments, enriching our day-to-day, fitting seamlessly into our modern wardrobes. The White Briefs set off on a journey to develop undergarments with a functional aesthetic. Consequently, a brand manifest was drafted in the quiet isolated studio tucked away on the Southern Swedish countryside, surrounded by the raw sweeping elements. Humanity and environmental & corporate responsibility were set as key to this conceptual approach. One that stands for timeless quality, minimalistic designs, incorporating the highest qualities of organic GOTS certified fabrics.
Collaboration
This story also leads us to another integral part of The White Briefs that of sartorial interaction and pensive dialogues on fashion. The studio has been able to secure challenging and innovative collaborations, which have added another aspirational touch to the line. Examples are Fantastic Man Magazine, Nick Wooster, Stephen Burks and Peter Lindbergh amongst others.